:((
OK. I have some IL2s that take off, follow waypoints, bomb something and return to base. That's fine. They do it all. Now, the plan is for the (SP) player to take off, intercept the IL2s and attack them. I want them being damaged to trigger the appearance of some Laggs (and later some FWs) to join the fray, to generate a dogfight for the SP player.
I hit some problems that I think I resolved. Firstly, even though the flight of IL2s has the two wingmen linked to the lead IL2 (which had the "OnDamaged" event, the Laggs only activated when the leader was damaged, I think. My solution was to add a couple more activate triggers tied to "OnDamaged" events for the wingmen.
This seems to work. The Laggs activate no matter which of the IL2s is damaged (although the damage has to be very heavy. I wish there was an "OnLightlyDamaged" event too!). But then the Laggs just orbit. I can't get them to move to their first waypoint. I've tried just about everything I can think of.
Here's an image of the mission (distilled to its main parts):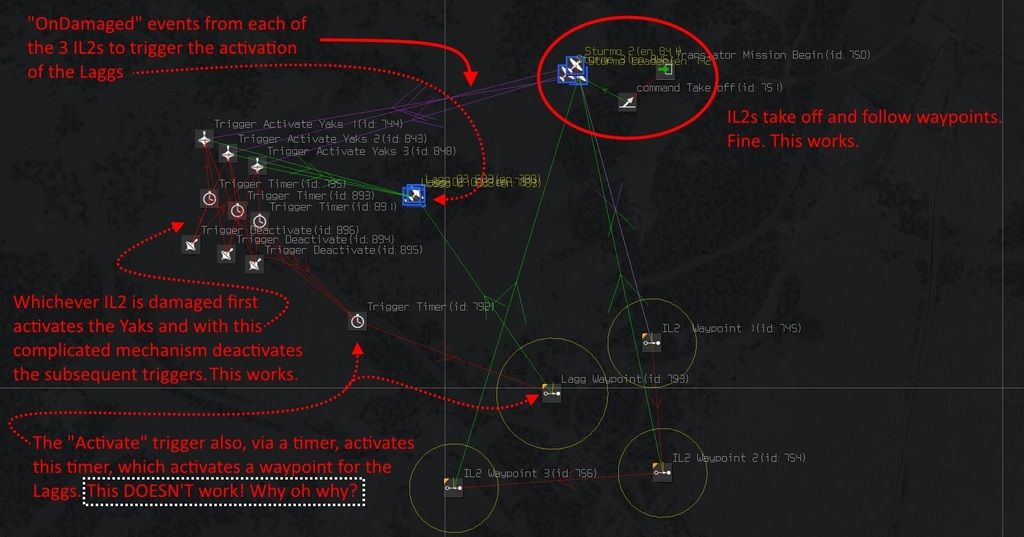 Any hints or comments would be gratefully received!