The Tangmere Pilots extend a warm welcome to visitors in the Guest Room. Please feel free to register, drop by the Guest Room to say hello. If you are looking to join a squadron, we are currently recruiting. You can browse the rest of our site to see if The Tangmere Pilots fit what you are looking for.
Squadron Leader

Posts: 1834
Joined: Mon Mar 07, 2016 11:59 am
Location: North Tyneside
Contact:
Mainly because I never quite remember what the conversions are and have to keep looking them up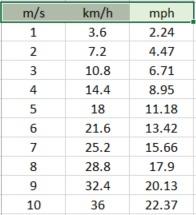 ---
Air Marshall

Posts: 4180
Joined: Tue Apr 26, 2005 4:47 pm
Location: In front of a computer
Contact:
I use this one:
In selecting the motto... 'all for one and one for all'... I have done so because it expresses what should be the creed to every Fighter Pilot. Never forget that you are an essential cog in the wheel, and if you break or fail it will let down your brother pilots, and the grimness of war allows for no such weakness.

Air Vice Marshal Saul in the foreword to 13 Group's 'Forget-Me-Nots for Fighters'

"They fly Hurricanes, isn't it?, them's shit planes for remtards on free dinners..."
Armstrong & Miller Show
---
Squadron Leader

Posts: 1875
Joined: Tue Apr 26, 2005 10:08 pm
Location: Hertfordshire, UK
Contact:
It is how to adjust for wind direction and speed on the bomb sight that I need to understand. That has me a little stumped for some reason.
---
Users browsing this forum: No registered users and 1 guest